It is Time for
Music Monday
at my friend Tara's Place! Please click on anywhere thats highlighted and come
play along
with us!!!
I am also playing Musical Monday with Diane from Morning Glory!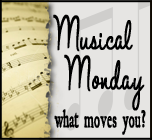 I am choosing a song that is light and breezy!Also an oldie goldie!!
I hope you enjoy it!~~



My newest love is this: A Garmin(new running toy)






!It is a Garmin and can track your pace and miles from the minute you step out of your house!How cool is that?It picks up sattelite and then you are on your way!Kinda like a GPS.I am still trying to figure it out but I must say,I think it is goin to help me in getting a faster pace while I am running with my twinkies!
I start my Five and Dime training in about two weeks and I can hardly wait!
I just know it will teach me some new things about running and getting faster.

A Thought for Today:
When we reflect on the future,we often allow the events of the past- problems and disappointments- to cloud our vision.
Today, more so than ever before,the moment has come to place your unwavering trust in the omniscience of God.He truly cares for YoU deeply
EverYone has a need for love: true proFouNd love,sinCeRe love.
So Rediscover that,in this seemingly loveless world!!!There is somebody who has a special interest in You:A God in heaven who iS Love and LoveS YoU Dearly

Lastly,a small update about my son,Jason.He is getting adjusted to prison life(however you do that)I didn't get to talk to him for a long time and that was hard but it's been better and the letters are coming!I hope to get to go see him,even though they sent him to almost the opposite side of the state!More later
Love you all!!Have a Spectacular Week!!!